By Micah Howard, MD, CCHt
Imagine a gently winding forest path stretching out before you, in sight of a place that feels friendly and familiar. Subtle sounds provide the soundtrack as you take slow, steady steps through the path's vibrant color, light and shadow, followed by a deep inhale.
It's likely these three simple sentences lead you to a cultivation of calm.
The idea of being with nature and experiencing presence in such solitude may seem an obvious benefit to most. But the healing reality of this profound sense of connection in an otherwise disconnected world is finding scientific substance in the actions of Chinese-born physician, Dr. Qing Li, and the fantastical forests of .
Decades ago, friends invited Li to Yakushima, where they camped overnight within the roots of 1,000-year-old trees. When he returned home, he realized he was a changed man.
Shinrin-yoku, translated as "forest-bathing" describes the subtle-yet-powerful interactions that occur when one spends time with the differing densities of organic environs. Simple studies held by Dr. Li provided doses from 20 minutes to overnight stays in forests near inpatient and outpatient facilities. The findings, corroborated by the Japanese Society of Forest Medicine, demonstrated reduced blood pressure, improved mood, increased focus — even in children with ADHD — accelerated recovery from surgery or illness, increased energy level and improved sleep in subjects.
These results support the long-known quality contentment and potent nepenthe found in interactions with mountain vistas or ocean waves. But this latest data on nature's immunologic interactions with the human organism may help spread the good word even farther.
Phytoncides — volatile, allelochemical compounds released by plants for cellular signaling, anti-microbial and anti-fungal defense — have been found to have paracrine and immuno-modulating effects noted to lead to improved levels of cortisol and salivary alpha-amylase: biomarkers for stress. Furthermore, definitive documentation (fig 1.) explains increases in proportions of human Natural Killer (NK) cells and enhancement of NK activity in a dose-dependent manner. Human NK cells, particularly the NK92MI variety, produce TNF-alpha and IFN-gamma in effort to provide direct control of viral infection and their direct natural cytotoxicity against primary tumor cells and suppression of metastasis via inhibition of proliferation.
Their role in healing, especially through frequent commune with nature, necessitates a prescription for reconnection to the natural world. Our self-isolation convinces us we are different from what we see, hear, touch, taste and smell. May we all experience the truth today, somewhere beautiful.
To view the study:
https://www.ncbi.nlm.nih.gov/pmc/articles/PMC2793341/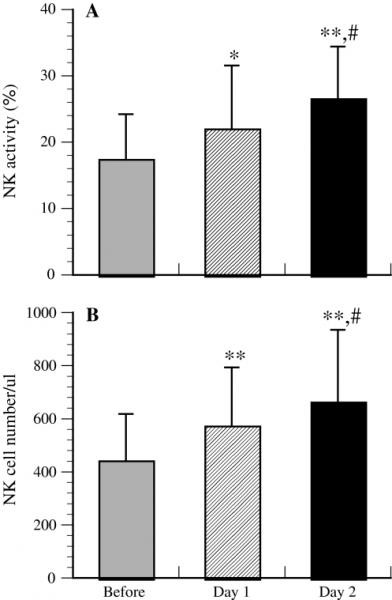 Micah Howard, MD, CCHt practices family medicine in Decatur, Alabama.